Reproduction Advertisements
Below are listed ads which appeared in national publications over the years. Thanks to Ron Braehler, Mark Zalesky and Garry Zalesky for saving them all.If you have any to add please contact us. You will find in all cases that the original sellers state the products as reproduction. It is when the items reach the secondary market that they often take on the "story" of having been there and done that!
Golden Enterprises 1988

I.M.A. 1989
I.M.A. 1996
I.M.A. 2003
Kaufman 1968
Military Replica Arms 1986
Sarco 1999

Sarco 1999
Sarco 1999
Continental 1992
Atlanta Cutlery 1986
Faith Associates 1985
Legendary Arms 1987
American Rifleman 1954
San Antonio Iron Works Knives

Gutmann C1968 Catalog page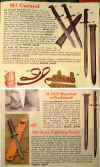 2009 Atlanta Cutlery Catalog

1966 Kiffe Catalog Page

We wish...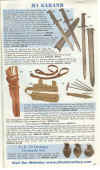 2009 Atlanta Cutlery Catalog